Stella Artois
Pale Lager - 5° ABV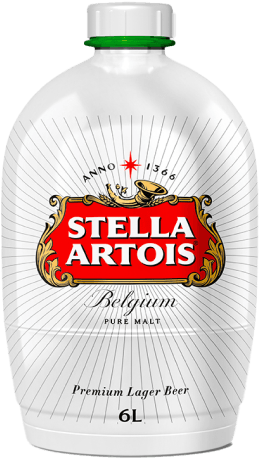 Stella Artois
Ideal tasting temperature

This beer is best enjoyed between 37° and 41°.

18 beers per keg

Don't worry about having cold beer in your fridge anymore.

Country of production

This beer is produced in Belgium.

Type of glass to use for the tasting

Stemmed glass in balloon format.

Shelf life

Consumable 4 weeks after opening.

ABV and IBU

The ABV is 5%, and the IBU is 24.
Enjoy ice cold Stella Artois on draft at home.
The number one selling Belgian beer worldwide, Stella Artois, has a rich heritage dating back to 1366.
The art and science of enjoying Stella Artois extends from the finest ingredients to the exacting 9-step pouring ritual, to the specially crafted chalice in which it is best served.
Stella Artois, Belgium Pilsner, brewed since 1366
Stella Artois is brewed with four ingredients: water, malted barley, corn and, above all, the best Saaz hops. It is these hops that set Stella Artois apart. A smooth blend of malt and hops, enhanced by a more bitter finish, reveals the full, slightly bitter taste for which Stella Artois is known.
How to pour the perfect beer
Our kegs
Once the barrel is perforated as recommended in the instructions, you just need to open your Pefectdraft machine from the front and to slide the keg inside. Easy and quick !
202 oz

Volume

7.9 in

Width

13.5 in

Height

14.5 lb

Weight
The kegs only work with the PerfectDraft machine, do not try to fill them manually.
Our customers are brewing with satisfaction
Easy installation

The installation is awesome and easy. Literally took less than 5 minutes to unpack and pour the first beer.

George

Better than your average bottle of beer hands down

The machine pours really well ! Honestly the beer is fresh and so easy to pour. Better than a bottle for sure, as you can have an ice cold beer easily.

Maria

An unbelievable pouring experience

Honestly, the pouring is amazing, even for beginner. First time pouring and the beer is perfect. Unbelievable!

John