Stella Artois Bundle
Pale Lager - 5° ABV
ㅤㅤLimited Time Offer ㅤㅤSave $133
Stella Artois Bundle
Become the ultimate host with a PerfectDraft machine & Stella Artois in your home. 
Draft beer served brewery fresh & ice-cold this summer 
Pour ice-cold 32° draft beer in the comfort of your home

Kegs stay brewery fresh for 30 days once loaded into the machine 


Choose your own pint glass 🍻 pour your friends and family their favorite pint


Keep it simple with PerfectDraft - there's no maintenance required, no additional accessories required - just quality beer & good times to flow 

What you'll get in your PerfectDraft bundle
17.5in
11.5in
20.3in
PerfectDraft Machine
Temperature control

Reach the perfect temperature for your beer. You can set the temperature from 32° to 53°.

Plug and play!

You don't need to use CO2 or clean the tubes!

Smart pour technology

Pour the perfect beer, even if you just plugged in the keg.

App control

Track the remaining level in your keg, and adjust the temperature directly from the app.

Weight and size

The PerfectDraft machine is made to fit in your kitchen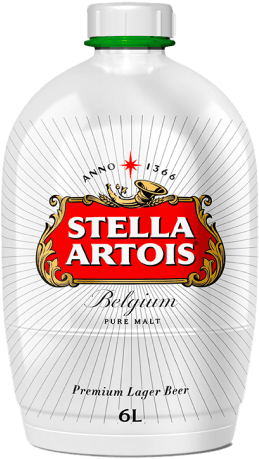 202oz
Stella Artois
Ideal tasting temperature

This beer is best enjoyed between 37° and 41°.

18 beers per keg

Don't worry about having cold beer in your fridge anymore.

Country of production

This beer is produced in Belgium.

Type of glass to use for the tasting

Stemmed glass in balloon format.

Shelf life

Consumable 4 weeks after opening.

ABV and IBU

The ABV is 5%, and the IBU is 24.
Frequently Asked Questions
PerfectDraft is a countertop keg machine that serves bar-quality draft beer. You simply insert a 202oz keg (equivalent to 18 bottles of Stella Artois) into the unit, and it cools the beer to your desired temperature. Once cooled, all you need to do is pull the tap to pour the perfect pint of beer.

Each keg holds 202oz, equivalent to 18 bottles of Stella Artois. The machine's LED monitor displays the level of beer remaining in the keg so you can order more as needed and avoid running out. Pro tip: Keep your next keg in the fridge to reduce the time it takes to cool the beer once placed in the machine.

Once opened, each keg stays fresh for 30 days. The PerfectDraft machine keeps track of your keg's freshness and notifies you of its remaining shelf life. Each keg comes clearly marked with a 'best before' date.

PerfectDraft maintains the beer at a steady temperature of your choice between 32F - 54F. The LED monitor on the PerfectDraft machine displays the current temperature of the keg.

The machine sold in the US measures 11.5in (length) x 20.3in (depth) x 17.5in (height) and easily fits on most countertops. We recommend measuring your space before ordering to confirm fit. If your machine does not fit in your home, simply return it for a full refund. We offer a risk-free, 30-day money-back guarantee.

Yes, changing the keg is easy and only takes a minute. Simply open the machine, pull out the tap handle at the top, remove the old keg, and snap in a new keg. Each keg purchased from us comes with a fresh beer line that snaps into the tap handle. There's no CO2, maintenance, or cleaning required. The process is very similar to putting a pod in a coffee maker.

Only PerfectDraft kegs purchased from our US website (us.perfectdraft.com) will fit into the PerfectDraft machine. Currently, we offer a collection of Stella Artois, Veza Sur, and La Rubia kegs, and we are continually adding more to our assortment.
Stella Artois, Belgium Pilsner, brewed since 1366
Stella Artois is brewed with four ingredients: water, malted barley, corn and, above all, the best Saaz hops. It is these hops that set Stella Artois apart. A smooth blend of malt and hops, enhanced by a more bitter finish, reveals the full, slightly bitter taste for which Stella Artois is known.
Our customers are brewing with satisfaction
Easy installation

The installation is awesome and easy. Literally took less than 5 minutes to unpack and pour the first beer.

George

Better than your average bottle of beer hands down

The machine pours really well ! Honestly the beer is fresh and so easy to pour. Better than a bottle for sure, as you can have an ice cold beer easily.

Maria

An unbelievable pouring experience

Honestly, the pouring is amazing, even for beginner. First time pouring and the beer is perfect. Unbelievable!

John
What are the PerfectDraft® features
PerfectDraft app
Manage your PerfectDraft machine via the app. Set the temperature, monitor freshness and beer levels, get notifications and access services.
Weight and size
The Perfectdraft machine is a little bigger than a coffee machine: it is 11.5 in width, 17.5in height and 20.3in deep. Its weight is 33.71Lb.
The Perfect Pour
Smart Pour technology means the perfect pour every single time.
Variable temperature control
Adjust the temperature for your perfect beer (32ºF-45ºF).
Improved insulation
Chills down faster and keeps temperature stable, even in warm environments.
Fast cooling
From room temparature to 'ready-to-drink' within 12 hours
The ultimate home beer experience.
Our kegs
Once the barrel is perforated as recommended in the instructions, you just need to open your Pefectdraft machine from the front and to slide the keg inside. Easy and quick !
202 oz

Volume

7.9 in

Width

13.5 in

Height

14.5 lb

Weight
The kegs only work with the PerfectDraft machine, do not try to fill them manually.
Discover the PerfectDraft experience